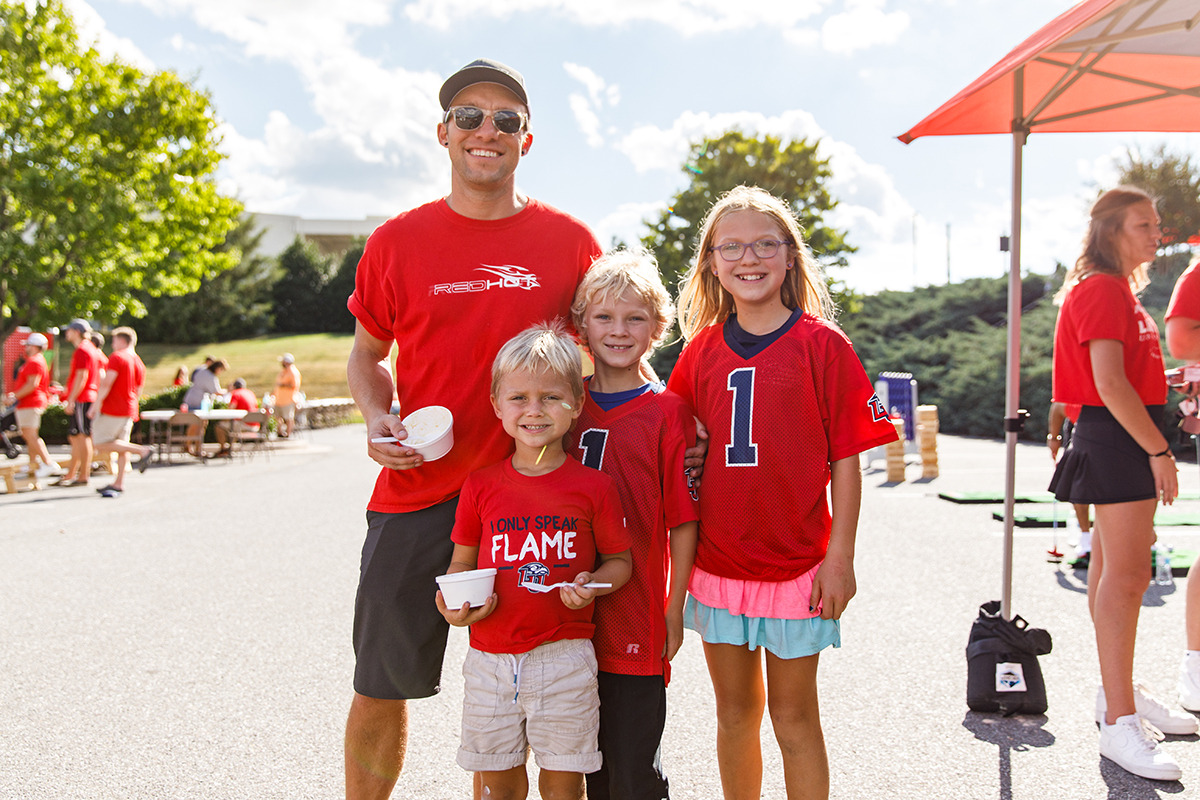 Liberty University is set to host the biggest crowds in Williams Stadium history this football season, starting with Saturday's showdown with the University of Alabama Birmingham (UAB) Blazers. With the most anticipated home schedule to date, tickets are selling out at a record pace and a tense, near-full crowd is expected for the home opener. The 6 p.m. kickoff will be the culmination of months of preparation by Liberty University Athletics to ensure the game day festivities are bigger and better this year than ever.
The most recognizable updates are above the south end area, where a newly leveled berm allows for overflow seating. Above the berm are 23 cabanas that provide a unique view of the game. Liberty has also upgraded seating throughout the stadium – all west side bleachers have been replaced with seats with backs, and all seats in the upper east side are now rear seats.
"The Williams Stadium projects completed this summer have significantly enhanced an already elite game day experience for Flames Nation," said athletic director Ian McCaw. "The upgraded seating, new berm and luxurious cabins will be a treat for our fans. Williams Stadium has added modern amenities that rival the best college football venues in America.
The high-energy atmosphere of game time will be enhanced by a new pre-game event this year, Tailgate Town, which Liberty hopes will become a tradition. Fans can reserve a space along the walkway leading to Gate 1, complete with a tent, tables, chairs and a parking pass. Tailgate Town will open at 8 a.m. and close one hour after each game ends. (Each tent comes with a yard sign personalized with the family or company name.)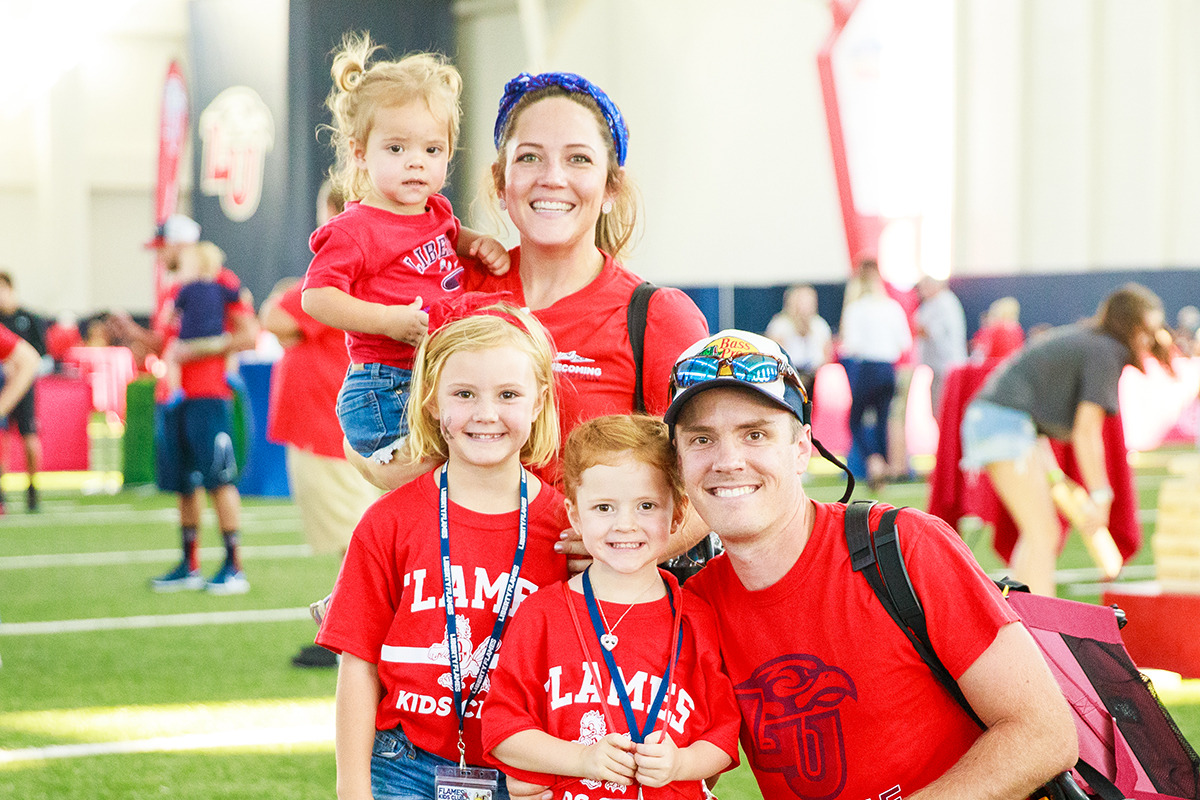 Flames Club members can also head to a new designated area, the relevant Tailgating Lot right, located near the LaHaye Ice Center. Every parking pass comes with extra tailgate space.
"As we've grown as a program, we know we want to grow our tailgating culture on campus," said Drew Boykin ('18), director of annual giving for the Flames Club. "We want to make sure that no matter what area of ​​campus you are in, there are hatchback tents and people hanging out before the game, creating a great atmosphere on game day."
The fun will continue with the Flames Fan Fest (presented by Motor World), a pregame favorite for families, at 3:30 p.m. at the Liberty University Indoor Practice Facility. Families can play lawn games and children can enjoy inflatables. The event is free and
open to all ticket holders. As part of a new pre-game ritual, the Flames football team will walk through Fan Fest upon arriving at Williams Stadium approximately two hours before game time. Also for the first time, Fan Fest attendees will be entertained by the Spirit of the Mountain Marching Band before the band take to the field for their pre-game performance and the national anthem 20 minutes before kick-off. Additionally, Flames Club members can purchase a pre-game meal. The festivities end 30 minutes before the start of the game. (For more information, call the Flames Club at (434) 582-2582.)
"In the fall, you have six Saturdays to have college football on your campus," Boykin said. "We have to make the most of it. We want to make sure this is a full day event. We want it to be a full day where friends and family come out to support the team.
Fans will also be able to take advantage of new concession offers during the game. A new food truck lane will be located behind the west side of the stadium and will feature some of Lynchburg's most beloved food trucks, including County Smoak, Nomad Coffee and Clarkboys Kettle Corn.
For the first four Flames games, the Flames Club will be handing out exciting giveaways including 2022 Flames Football Program magnets, Head Coach Hugh Freeze figurines, Liberty flags and Alpine hats.
"Liberty has done a great job of arranging this for our fans and alumni to come and enjoy a fun, Christ-centered family day," said Robert Goodman, associate athletic director for sports sales and promotions. "I think our fans are going to see big improvements in the stadium that everyone is going to appreciate this season."
The Flames are coming off a thrilling fourth overtime win over Southern Miss last weekend, building momentum for Saturday's home opener and looking to host Akron (Sept. 24), Gardner Webb (Oct. 15) , BYU (October 22), Virginia Tech (November 19), and New Mexico State (November 26).
In Freeze's fourth year as the team's line general, the Flames will be looking to improve on their 8-5 record from 2021, and their fans will be fueling them for a possible fourth straight game appearance. bowling this season.
To accommodate the increased attendance and influx of on-campus game day traffic, Liberty has provided one-way entry and exit plans for each parking lot. (See map and parking information). All in-game parking passes are now digital. For more game day information, visit LibertyFlames.com.